DETECTIVE CONAN" During the year the name will be introduced to the silver screen detective first ascents in China
Date

2009/11/30/Mon 08:24

Category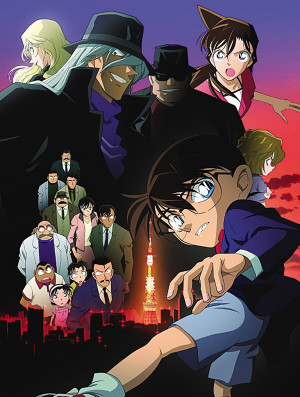 "Dark Chaser" Poster
Popular in Asia animation work, "Detective Conan" Movie Part 13 - "Detective Conan 2009: dark Chaser" has formally recognized the introduction, planned for 2010, released in China before the Spring Festival, the film will be the first Department of landing the big screen domestic films of Conan.
Conan has been available since the first images have been published 66 monographs (China Publication 65). In the domestic market, the Chinese mainland, Hong Kong and South Korea and other places also have a large number of loyal die-hard fans. Conan the beginning of this century, an official visit to China later became the first ratings are squeezed into the top ten of the cartoons, although the introduction of a total of just more than 100 sets, but the animated Conan is still many domestic TV channels repeatedly broadcast. In recent years, the classic animated image of the continuous landing the big screen, made a rapid rise and 3D animation films Rounds makes Conan films for domestic audiences look forward to unprecedented. This time, the series's first 13 Movie work "the dark Chaser" will officially become the first country to the big screen landing the Conan movies.
Since 1997, the official launch of The Movie "tipping skyscraper," every year since one of the "Conan the film" has been released 13 consecutive, while the film will release in the country's "dark Chaser" is the most popular of the series the one of 38 million domestic box office in Japan beyond the "crossroads of the maze" and "Phantom of Baker Street," topped the list.
Import large environment, more and more, "watching foreign language film must look at the original" has become the universal concept of movie-going audience. This time, "Detective Conan: the dark Chaser" will be in Japanese with Chinese subtitles and Mandarin dubbing acoustic versions of two are shown. In this regard, China film distributor side of the head of film distribution company, said for "Conan" Such a constant suspense detective movies, the perfect sound better able to highlight the film exciting story. The official also said the star has joined the national popular Chinese-language dubbing version of the film will be another major attraction. TONG Li -